The Cheviot a Shared Name
Phil Huntley
---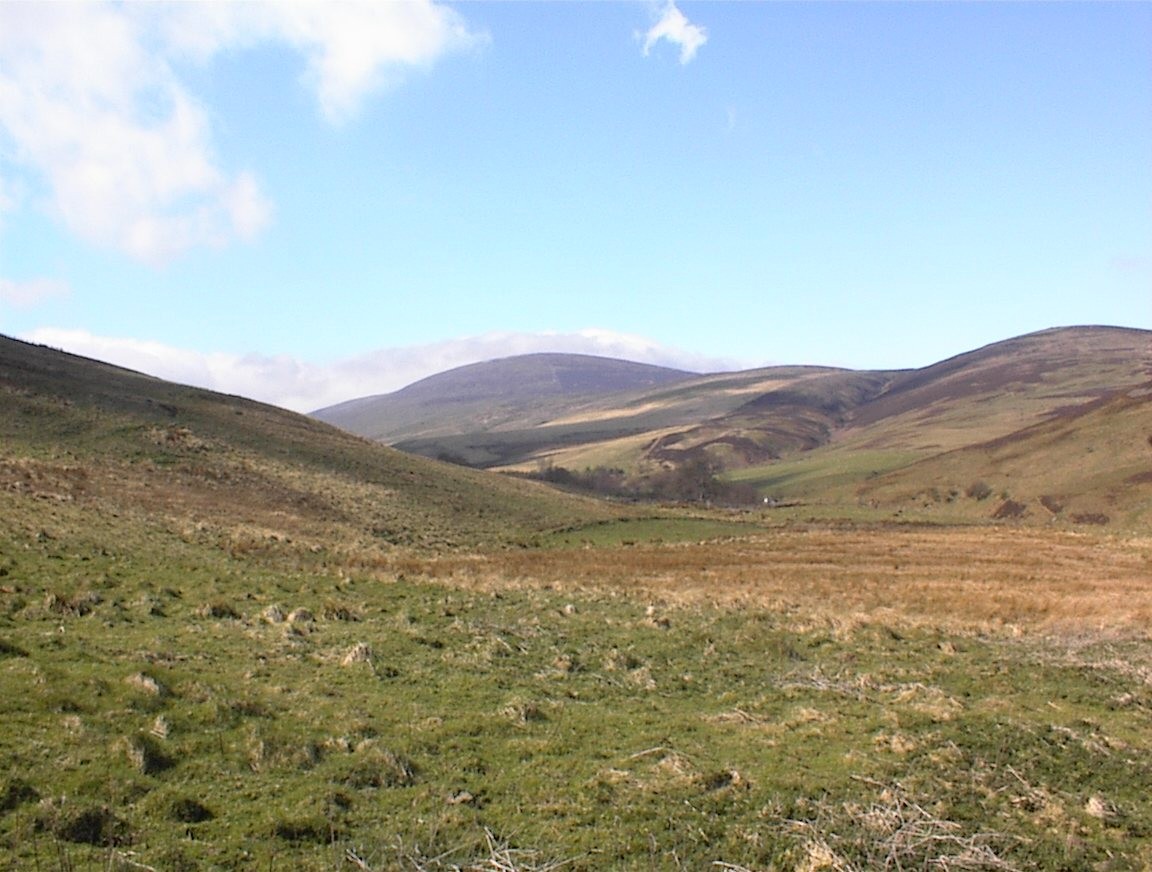 Ask a Northumbrian what The Cheviot is and three answers may come your way, a hill, a sheep or even a warship.

380 million years ago, from deep within the earth's molten core, lava forced it's way upward along the easiest route through still earlier but now cold Devonian Old Red Sandstone lava, heating and changing the composition of the adjacent material during it's passage. At the surface the granite and ash built up to form a volcano and a surface for ice, water and wind to spend aeons to work and to smooth was formed. The Cheviot was born.

Situated in the 398 square miles of the Northumberland National Park, Cheviot is now a flat topped 815 metre (2674 ft) summit with a limited panoramic view of a sparse empty area with steep sided valleys. Upon and around it are heather clad moorlands, managed to breed the grouse and interruptions of coniferous plantations. This once tree covered top, presently consists of deep, soggy, acidic peat bogs with very few rock areas showing. Criss-crossing the area are ancient drove and Roman roads, signs of the passage of man and of his need to use the hill country. At the peak of their usage, flocks of 1000 sheep travelled 12 or less miles a day on paths wide enough for 200 head of cattle to move and more importantly, graze.

Burns and rivers gather the rainfall in their slopes, valleys and gorges to run in torrents down to where men name them Alwin, Breamish, Coquet, College and Harthope, names to link them with the ancient tribes that once inhabited the land.

Curious hollows and holes have been carved on the north face of Cheviot by glacier scouring to form Henhole and The Bizzle, amongst them the now wild descendants of domestic goats pick an existence along with the sheep of the area.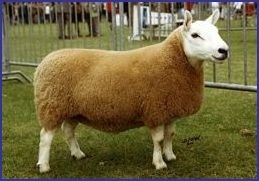 The Cheviot sheep, a hardy, pure white, short woollen breed, is native to the Cheviot Hills. They are romantically believed to be descended from sheep off wrecked Spanish Armada (1588) ships which swam ashore and lived wild. With only the fittest surviving they have developed particularly healthy feet and coats suited to the harsh climate and wet winters. Perhaps a more definite origin lies in the records of the Cheviot and North Cheviot Sheep Societies.

The main purpose of the breed now is production of quality crossbred lambs. Modern practice being to mate the Cheviot ewe (female) with Bluefaced Leicester rams (male) to produce Cheviot Mules the female of which is in turn crossed with Suffolk or Texel rams giving lambs of excellent confirmation for the butcher and consumer. The wool, once vital for production of "Tweeds" now has little value.

Sheep are native to the hill area, in 1372 there was noted "a small, but very hardy race over the tracts of the Cheviot Hills". Gradually improvements were made to the wool clip by the introduction of Spanish Merino sheep (three thousand were brought to England in 1480 and more in 1560 under Queen Mary 1st and her Spanish husband). With Berwick being a major port chances of them coming via there are high.

Agricultural innovation in the 18th century included sheep breeding and the Cheviot featured large in this. Hardiness and a resistance to parasites were passed down the line and increases of 20% in wool production were coupled with better meated forequarters. The breed, in the forms of Cheviot, Border Cheviot and North Country Cheviot have developed and spread throughout the British Isles and North America. The Cheviot Sheep Society had it's centenary in 1990.

Along this Scottish/English border region it is likely that many of these sheep were transported or rustled along the drove roads by the feuding Reiver families who fought and raided each other's homes in the 14th-16th centuries.

During the Second World War several aircraft of both sides came to grief in poor weather amidst the hills of the area. Cheviot itself had a particular reputation owing to height, blizzards and fog on its summit. A Spitfire fighter, Wellington, Stirling, Lancaster and Warwick bombers on the allied side, have all left scattered remnants of themselves, which can still be seen amidst the peat bogs and heather's, on Cheviot's summit or her various faces. On 16th December 1944, on the 2,600ft West Hill of Cheviot, a four-engine American bomber, a B-17G, crashed, a plaque and a propeller were dedicated in 1969 to mark
the spot. Collie dog Sheila was instrumental in finding and rescuing four airmen, three others found their own way down the hill while two died in the crash. She was awarded the Dicken Medal (the animal Victoria Cross) for her efforts. A web site www.acida.co.uk of enthusiasts can be accessed for details of this and other regions crashes.

To commemorate the Battle of Chevy Chase fought at Otterburn, Northumberland in 1388, an annual run sets out in July/August from Wooler Youth Hostel. This is a 20-mile challenge for walkers, "B group" and "A group" runners. The route leads these valiant souls up Cheviot, follows a steep decent through a V-valley then up onto Hedgehope Hill, through various rocky, boggy and nettle infested parts, along track and tarmac and back to the Youth Hostel. Well done to those who succeed. Passing through the area is the Pennine Way, a 251-mile walk from Edale in Derbyshire to Kirk Yetholm in the borders.

The Cheviot is a summit to Northumberland's hill region, a proud name given to a Royal navy warship and the name of a breed of sheep known all over the world.